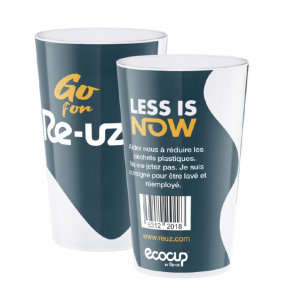 The container deposit system

: an obvious choice for reuse
Simplified

deposit return

services
Deposits on containers are an effective way of encouraging reuse.
Re-uz ® supports you in your transition to circular economy by offering solutions for deposit refund systems to make reuse a daily reflex for everyone.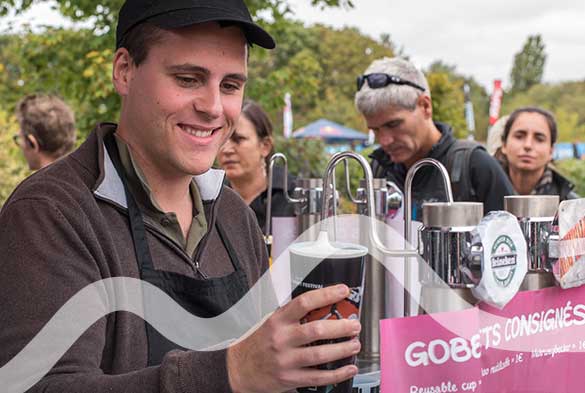 Container deposits:

a central system in the

loop of reuse
The virtuous circle of reuse naturally implies returning reusable containers after eating or drinking. In that respect, the introduction of a deposit service becomes essential to make the process easy and encourage active participation.
Thus, by inviting users to return their cups and reusable tableware at restaurants, at the office or during events, you 're helping extend the life of these containers . In doing so, you limit the environmental impact of waste management and increased manufacturing.
A solution that restores

meaning to consumption
The container deposit system is simple: when purchasing their beverage or meal, users pay an additional fee, which is refunded to them when they return the reusable cup or plate. The container is then washed and reused. A value is assigned to the container, so it can be released back into circulation.
Manual or automatic, this deposit system can be a real lever for changing the way we consume. Furthermore, this process has the advantage of being participative, engaging and above all it raises awareness… Another way to move the lines !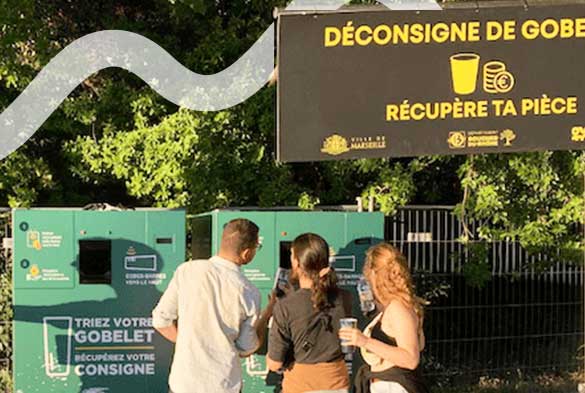 A DEPOSIT REFUND SYSTEM FOR EVERY NEED
CONTAINER DEPOSITS AS AN ANSWER TO THE BARRIERS TO A CIRCULAR ECONOMY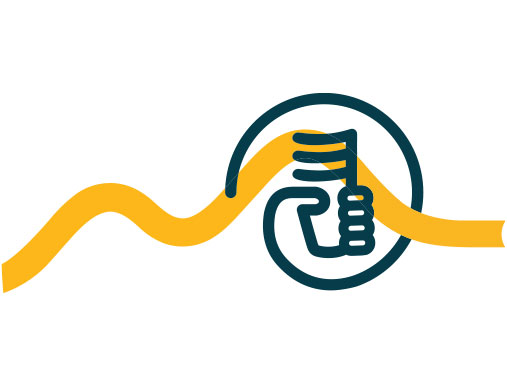 A return to sustainable living through reuse
The deposit system on containers is charging a deposit to the consumer for the loan of a reusable cup or plate, to ensure its return to the purchase point.
Designed to last, our reusable containers fit perfectly into a deposit system.
It's a way of recycling containers and avoiding purchasing them over and over again.

RE-UZ ® x LEMON TRI: AN INNOVATIVE COLLABORATION FOR AN AUTOMATIC DEPOSIT REFUND SYSTEM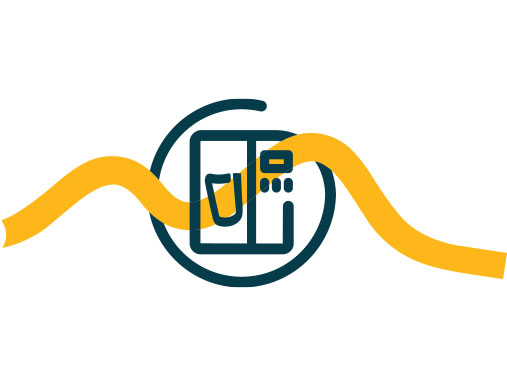 Re-uz ® HAS PARTNERED WITH LEMON TRI TO PROVIDE YOU WITH A COMPLETE SERVICE for the deposit system
Re-uz ® manufactures, customizes, washes and stores reusable containers; Lemon Tri produces and deploys customizable machines for managing reusable packaging, and offers a variety of incentive and deposit systems.
As pioneers and leaders in our respective markets, combining our efforts in the field of automated deposit systems made perfect sense.