Reuse in the workplace

to limit single use
Coffee breaks or relaxation areas: use reusable containers at your facility
Promote reuse by offering reusable containers and cups on your premises. Provide your employees with a turnkey solution that fits in with your CSR policy. Reduce waste by eliminating single-use cups… Join the zero waste movement!
Making
re-use a matter of course

in the workplace
Within your organization, employees are the first users. Coffee cups for hot drinks, cups for cold drinks or reusable lunch boxes… A wide choice of reusable containers can be easily used by your teams.
Customized tumblers

in your corporate colors

for your employees

Ecocup ® by Re-uz ® cups can be customized with your corporate colors: a way to mobilize and unite your employees. Your logo, a baseline... Support your positioning on an eco-responsible medium. A
communication

tool

for your customers

Ecocup ® cups have a real purpose. Each container will be used and reused again and again. This everyday object conveys the strong values of re-use. Customized, reusable cups can also convey your company's values.
Reusable
coffee machine

cups
Espresso, long coffee, cappuccino, macchiato… The coffee break is an essential part of working life. Why consume content and container at the same time?
Reusable cups are a matter of course… And yet, single-use is still predominant in breakrooms!
Reusable cups

optimized for

automatic coffee machines

Re-uz ® shakes things up to make re-use a matter of course. Re-uz ® deploys reusable cups adapted to the coffee machines found in companies. Placed in the automatic machine's storage area, the cups are similar in shape and lightness to single-use cups... but they can be reused in an unprecedented way!
The cups are dishwasher-safe (home or office) and can be returned to the drinks dispenser. Deposit-refund cups for companies to
limit plastic waste
Near coffee machines, Re-uz ® proposes the use of "deconsolidators". This automatic machine automatically returns the deposit linked to the use of the cup (or any other pre-set container). Simplicity, adaptability, responsibility and efficiency are the watchwords of this system. Ingenious

incentive or deposit systems

Re-uz ® offers 6 differentincentive or set point systems, to suit the configuration of your choice. A "physical" system via token, ticket or coin. A digital system via badge, cashless or app.
To encourage each user to get involved, "game" systems can be set up: a winning ticket or token for a free drink or a prize to be collected. Take a simple, fun approach to recycling!
Re-uz ® produces and supplies customizable reusable packaging, and has washing facilities throughout France and Europe.
We are able to implement customizable automatic management systems for reusable packaging on your company site. We deploy a variety of deposit systems.
Eco-designed containers

for your business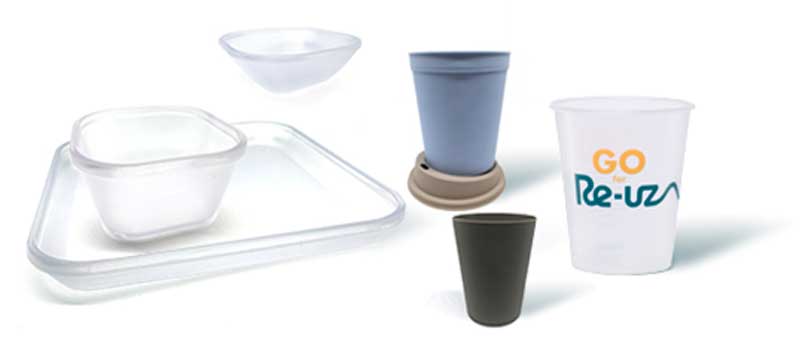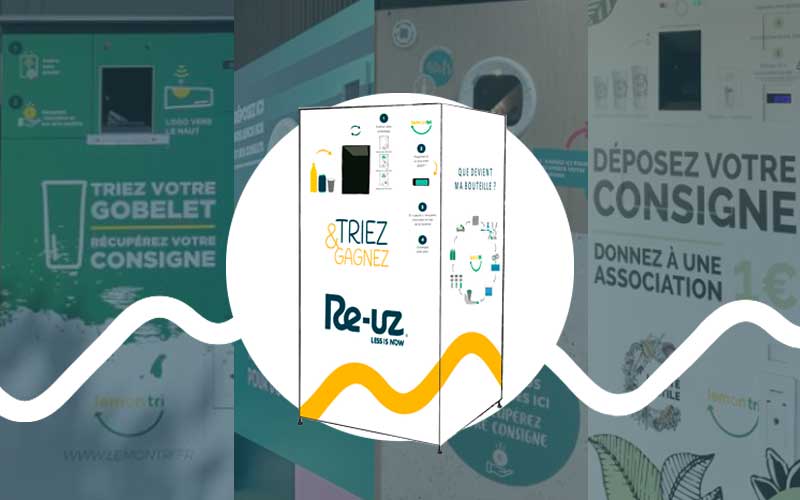 Innovative

sorting and collection services

for your company
Re-uz ® deploys tailor-made solutions for collecting and sorting the containers used within your company. Within your structure, a deposit and collection system for dirty cups can simply be set up.
Washing

systems for

your food containers
Re-uz ® implements
tailor-made washing solutions
adapted to your structure. Corporate catering, canteens, temporary catering… Many types of customers opt to outsource the washing of their containers. Discover the scope of our programs and join the zero waste movement.